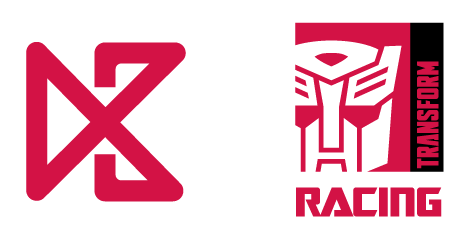 D3+Transformers Racing Unveils New Race Car for 2018 Competition at Petit Le Mans
Ligier Gibson LMP2 Racer Revealed by Dawson Racing and Hasbro Team Up for IMSA Competition
Braselton, Ga., October 6
– Dawson Racing principals, father and son Ian and Simon Dawson, revealed the new for 2018 Ligier Gibson Le Mans Prototype 2 (LMP2) race car for the International Motor Sports Association (IMSA) Prototype class today at Road Atlanta. As part of the IMSA press conference during the 20th annual Motul Petit Le Mans race week, the Dawsons, along with Hasbro unveiled the No. 84 D3+Transformers Racing Ligier JS P217 Gibson, using the JS P3 showcar as a stand in.
The brightly colored red, black and white race car with the large Transformers Autobot shield on the nose was impressive at the highly attended press conference at the final race of the IMSA 2017 season.
"Today has been a long time coming,†said Ian Dawson, CEO of D3. "My son, Simon, and I have been covertly working on this race team and family values program for a long time so today is a very proud moment. Having Hasbro collaborate on this project with their exciting Transformers brand is exactly what we pursued to be able to produce a consistent and enduring platform on which we are adding other partnerships to this exciting team.â€
"The Dawsons have put together an exciting extension of the Transformers brand and appealing program by connecting cars and families through their family values racing program and in a first-class sports car series with IMSA,†said Tom Warner, Senior Vice President-Transformers Franchise "It's thrilling to see the race car that's definitely more than meets the eye with the Transformers livery and it's going be even more exciting to see it on the track next season.â€
"Introducing the D3+Transformers Racing team here today with their new Ligier Prototype is another outstanding development and progressive step for IMSA and the WeatherTech Championship,†said Scott Atherton, president of IMSA. "Kids of all ages are going to be attracted to this amazing vehicle and it undeniable link to the Transformers brand. From the time Ian and Simon first shared their idea with us, we've been anxiously awaiting the finished product. We are thrilled to see its unveil here today and eagerly look forward to their competition debut at Daytona in 2018.â€
"We are pleased to have the exciting new team the Dawson family has brought to IMSA as a Ligier JS P217 customer,†said Jacques Nicolet, Founder and CEO of Onroak Automotive. "Ian and Max Crawford have worked together over the years so they already have a good working relationship. With testing commencing soon, it will be great to see this car on track.â€
Additionally, the first of the two full-time drivers and one endurance race driver was announced as Brit Robbie Kerr, a Formula 1 special events driver, and former British A1 GP driver and British Formula 3 champion, who has been competing successfully for two decades in a variety of cars around the globe.
"I'm very proud to be part of this fantastic D3+Transformers Racing team,†said Robbie Kerr of High Wycombe, England. "I've been working with the Dawson family for the past few years helping develop the Radical car and working with their Radical Texas dealership. I'm honored to have been selected as one of their drivers for this amazing IMSA LMP2 program and I can't wait to get testing this car.â€
The D3+Transformers new Ligier JS P217 Gibson race car will be completed and ready for testing at the Onroak Automotive North America workshop in Denver, North Carolina. The team is expected to take to the track for the first time at the official IMSA December 5-6 test at Daytona International Speedway before competing in the full 2018 IMSA Prototype class of the WeatherTech Championship Series.
Transformers from Hasbro has been a beloved brand for more than 30 years, spanning action figures, films, animated shows, comics, games and more.