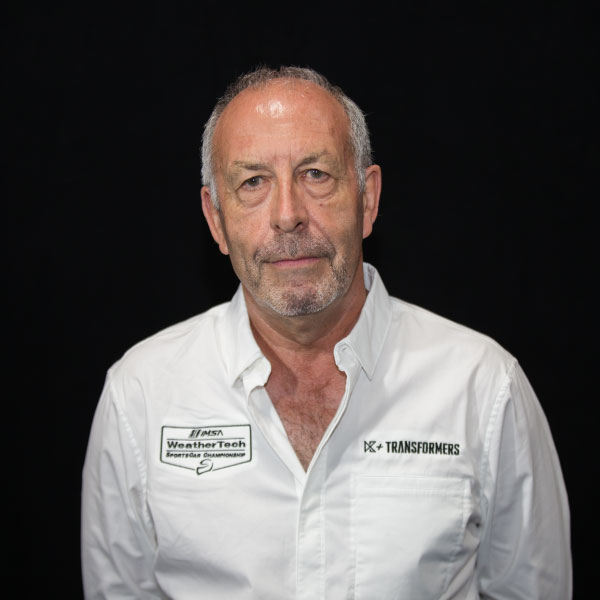 Ian Dawson was born in South Shields, England, and grew up Leamington Spa, Warwickshire. He was interested in sports and competition throughout his youth, and after studying commercial design and manufacturing, undertook his first full-time role as a mechanic and fabricator with the dominant Ford Escort European racing team.
After spending time working with Ford throughout Europe, he was presented with a position at Team Lotus. There he worked with Jackie Ickx, Emerson Fittipaldi and Ronnie Peterson, and ultimately became car chief on Mario Andretti's Formula 1-winning Lotus.
Throughout his career, Ian has worked in both North America and Europe on sports car and Formula 1 programs, managing renowned teams and working with iconic motorsports brands including Porsche, Ford, Ferrari, Ascari and Lola. Additionally, he has worked with leading drivers like Derek Bell on the Porsche 962, and Klaus Ludwig, Bobby Rahal, Geoff Brabham and Lyn St. James at the Zakspeed America operation. His Lola venture saw his team enter the first diesel-powered car in the 24 Hours of Le Mans.
Ian's association with Radical Sportscars started in 2010 and continued to develop into a multi-task operation. Among the highlights was a joint venture with Roush Yates Engines to develop and race all-new Ford EcoBoost Turbo engines as part of the Project Libra Race Team. Meanwhile, his Radical Texas dealership, featuring track days and unique motorsports experiences, has continued to grow. Ian's interest in new and innovative programs came full circle with the testing of the Radical LMP2 car fitted with the same Ford EcoBoost engine that is currently installed in every one of the Radical RXC 500 road and track cars.
Ian's son, Simon Dawson, is following in the family business and heads up the media and business development for Dawson Group Holdings. The father-son duo is now also collaborating on a joint venture with their Dawson Racing business by connecting the thrilling world of motorsports to the exciting, cutting-edge world of esports through educational programs.
Ian has been married to his wife, Joanne, since 1978. He has long held a keen interest and activation in clean energy and sustainable product development, which is more relevant than ever today.